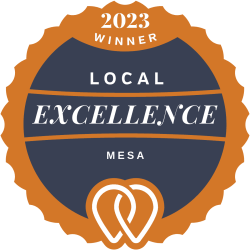 We are so excited to announce that the Premiere Social Media team has been recognized as one of the
top B2B service providers of 2023
in Mesa by UpCity! 
For more than a decade, UpCity's mission has been—and continues to be—to help businesses find B2B service providers they can trust. Each year, UpCity analyzes and scores more than 50,000 service providers based on their UpCity Recommendability Rating and acknowledges the top national and local providers with an UpCity Excellence Award. The results are in, and we won!
Premiere Social Media is a full service digital marketing agency that takes your business to the next level. We can help you with social media management and training, website and graphic design, and other marketing use cases, either by teaching you how to execute the tasks yourself or providing them as part of a managed services arrangement.
This recognition has been driven in large part by our 5-star review rating on UpCity. Here are a few of the glowing reviews we've received from our incredible customers:
"Shyla has been very helpful in helping me learn how to navigate the ever changing digital marketing world. She is very knowledgeable and has been a blessing to my business. If you are needing help, I highly recommend Premiere Social Media." —Mandy Sapp, August 2022
"We absolutely love Premiere Social Media. Shyla is amazing. Shyla helped us set up our Facebook page and walked us through the best ways to create social media posts to get the most impact. Shyla is highly informative and takes the time to explain why things should be done a certain way" —Melissa Violette, August 2022
"Shyla and her team are very friendly, professional, knowledgeable, punctual and understanding to a person's business needs. Having Premiere Social Media take my business to the next level has been by far one of the best investments I have made. I can definitely say it's paid itself back already. Thank you for helping me grow my business and I would definitely recommend and encourage anyone looking to take their business to the next level by adding them to the team."  —Antonio Brown, January 2022
At Premiere Social Media, we provide stellar customer service. We try to help everyone based on their budget. This is why Premiere Social Media offers so many marketing services. As an award-winning service provider, Premier Social Media understands the value of clients who trust us to contribute to the ongoing success of their business, and we do not take this responsibility lightly. The whole team is excited to cultivate these existing and new customer relationships in 2023 and beyond.
About the UpCity Recommendability Rating
The UpCity Recommendability Rating was developed to determine a service provider's credibility and trustworthiness. This rating helps give UpCity the confidence to recommend a service provider to the more than two million businesses that visit our marketplace, which is powered by over 35,000 verified reviews. Read more about the UpCity Excellence Award here.